Webinar Coordinator Position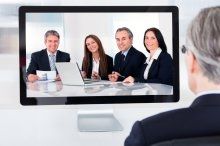 POSITION ANNOUNCEMENT
 
Continuing Education and Development Inc. (www.cedengineering.com), an approved online continuing education provider for professional engineers, located in Stony Point, NY, is seeking a qualified candidate to support the administration of our live webinar continuing education program.
POSITION DESCRIPTION
 
The following is the description for this position:
Position Title: Webinar Coordinator
Work Hours: Part Time - Monday to Friday
(Mostly day time and few evenings dependent on webinar schedule)
Webinar Schedule: Starting at 2 to 3 webinars a week
(Webinars can be 2, 3, 4, 6 or 8 hours long)
Hourly Rate: $10 to $15 per hour, depending on experience
POSITION RESPONSIBILITIES
 
Candidate will be responsible for the administration of the CED Live Webinar Program as follows:
 
Coordinate the schedule with the webinar presenters on as need basis.
Schedule the webinars through the GoToMeeting website on as needed basis.
Post the webinars on the CED website calendar on as needed basis.
Host each webinar on GoToMeeting as follows:
Join the webinar 10 minutes before the scheduled start time and welcome the presenter and participants as they join in.
At start time, go through a standard 3-minute introductory set of instructions (which you will be trained on), lead in the presenter, click on "record', take attendance electronically.
Stay in the background as the Presenter conducts the presentation for any logistical support, such as emailing handouts of the webinar presentation, if necessary.
At the end of the presentation, thank the presenter, go through a 2-minute concluding set of instructions (which you will be trained on), and take attendance electronically again.
After conclusion of the webinar, exit GoToMeeting, immediately go to the CED website to activate the certificate of completion for only those who attended.
Repeat steps 4 and 5 for each scheduled webinar.
POSITION REQUIREMENTS
 
The following are the requirements for this position:
Candidate must have a minimum of High School Diploma.
Candidate should preferably be familiar with GoToMeeting webinar functionalities or equivalent web-conferencing platforms (although training will be provided).
Candidate must be well spoken, enthusiastic, friendly and confident when publicly engaged with the webinar presenter and participants.
Candidate may work from home and should be flexible and committed to accommodate the variable webinar schedule from week to week.
POSITION INQUIRIES
 
Interested candidates may inquire about this position or send their information to Gil Gedeon at:
Tel: (973) 570-7383